Below you'll find everything you need to know about the band, band members experience & bookings.

There's also multimedia examples, images, graphics, audio & suggested logos for the band. Feel free to use any of these items for social media, web and print promotional materials your venue typically creates.




To book Matt Zajac or to get more information please contact him at:

Mattzajac AT msn DOT com OR 774-571-8168


Matt was the 2015 WMRC Local Music Awards winner for: Best Solo Acoustic Act & Best Male Vocal
Matt has been performing professionally for 25 years but his interest in music goes much further back. Matt, like most people his age got started on his parents Beatles Albums but Matt/'s tastes are eclectic if anything. Citing influences such as: Aerosmith, the Black Crowes, Rolling Stones, Bob Dylan and the Band, but also; Guns n Roses & Motley Crue, even John Coltrane & Robert Johnson to name just a few. Matt/'s a well-seasoned musician who plays multiple instruments and has a wide range of experience from the many bands he/'s been in.

Matt/'s been in bands that have toured regionally and nationally. He/'s played venues from the famous Whisky a Go Go on sunset Blvd. to local legends such as the Channel, Axis, Bunratty/'s & The Rat.

You can currently catch one of Matt/'s shows in the central MA/ MetroWest areas.

Matt also provides Instrument Lessons. Check out his Lessons page to get details
Here's a partial list of the venues we have played. Feel free to contact them and ask about our shows and professionalism. Every venue we play asks to have us back.
3 (Franklin, MA)
Alumni
Andrea (Westerly, RI)
Ashland Ale House
Barringers
Blackthorne Publick House
Boston Tavern
British Beer Comapny
Cats
The Central tavern
Chickie flynns
The Chieftain
club Babyhead
Copperfields
Doc's Sports Bar
The Escape Club
Funky Murphys
The Garage Bar and Grill
Grumpys
Hanto
J. Grays Tavern
Jalapeños
The Living Room
Liz's Diamond
The Loft (Worcester)
Marlboro country club
Medway Cafe
Memorial Hall
Middle East
Millerville Men's Club
mr. Dooleys
O'Briens Pub
The Paradise
Patriots Pub
Pejama Joe's
PJ's
Pub 140

Ralphs Rock Diner
Red Barn
Red Rock Grill
Redstone Rrill
Rock n Coal
Rose Garden
Scioli's
Tamminy Hall
TJ's
The Tradesman
Uncommon Place
Uptown Pub
Victory Lane
Worcester Palladium
--- Legendary Boston Venues --
Axis
Avalon
The Rat
The Channel
Bunrattys/local 186
Mama Kin
Sir Morgan's Cove
The Lucky Dog
TT The Bears
Maximus
--- National Venues --
Tune In (CT)
Studio 158 (CT)
Cell Block 44 (CT)
Knitting Factory (NYC)
Mercury lounge (NYC)
Whisky a Go Go (LA)
Coconut Teaszer (LA)
The Garage (LA)
The Crowbar (CA)
Sk8topia (OH)
Stone Lounge (FL)
The Juke Joint (CA)
Twisters (VA)
The Station Nightclub (RI)

Matt Zajac Photos:
(Right click any thumbnail and do a "Save Link As/Save Target" to save an image)
Matt Zajac Videos:


Matt Zajac - Me & Bobby McGee


Matt Zajac - Live on WMRC


Matt Zajac - Home Sweet Home (Acoustic)


Audio: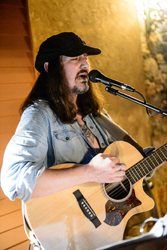 Matt Zajac
- Matt was the 2015 WMRC Local Music Awards winner for: Best Solo Acoustic Act & Best Male Vocal
Matt currently performs locally, doing about 100 or so gigs a year playing guitar and singing. Matt is also in a few duos including one with Bill Donovan (The Wingmen) on bass , and another with Tony Degrazia doing an acoustic Grateful Dead tribute. He also picks up various freelance & fill in gigs playing various instruments. You/'ll find him playing Guitar, Drums, Bass, Vocals & occasionally on the Piano.
So how did it all start? Well Matt was introduced to the music of the Beatles, Rolling Stones, Alice Cooper, Aerosmith, and many others at a very young age. After hearing Motley Crue/'s first album he knew that making music professionally was for him.
Starting in the late 80/'s Matt started playing out professionally with bands. He/'s been in local, regional and nationally touring bands playing revered venues on both coasts and all points in-between.
Some of the great venues Matt has played include: Axis, Avalon, the Rat, The Channel, Bunrattys/local 186, Mercury lounge in NYC, The Middle East, Mama Kin on the East Coast. He/'s played South, Midwest, and West Coast venues like the famous Whisky a Go Go, Coconut Teaszer, & The Garage in LA, The Crowbar in San Diego.
Matt has played some major festivals too! Hempstock, Freedom Fest, Harvest Fest & Locobazooka to name a few. He/'s also released two full length CD/'s, "Get Off" and "Secret Songs of Sacred Dances" while he was with the band Headrush and while he was in Arise they released a 7" Vinyl Record.
Matt has such a depth and width of experience. He has shared the stage with Mark Bell of the Joe Perry project , Steven Adler of GnR, Ray Manzarek of the doors, and the band WASP and most recently Ellis Paul.
Here/'s a small list of the things Matt has been involved in:
Clenched Fist & Second Wind (88-90)
Arise (91-96, toured nationally)
Headrush (95-2000)
Touch it 2001-2002 (w/Jesse Kramer & members of Big D and the kids table)
Labianca 2003-2005.
While Matt was in Arise he had the chance to play with bands such as: Hatebreed, Converge, Overcast, Sam Black Church, Eye For an Eye, Slapshot & Dive (pre Dropkick Murphey/'s).
Over the years Matt has performed a wide range of musical styles including: Rock, Blues, Soul, Bluegrass, Classical Folk, Country, Metal, Punk, Hardcore, even Jazz & Reggae. but He/'s a Rock /'n/' Roll type of guy so he just calls it Rock /'n/' Roll.